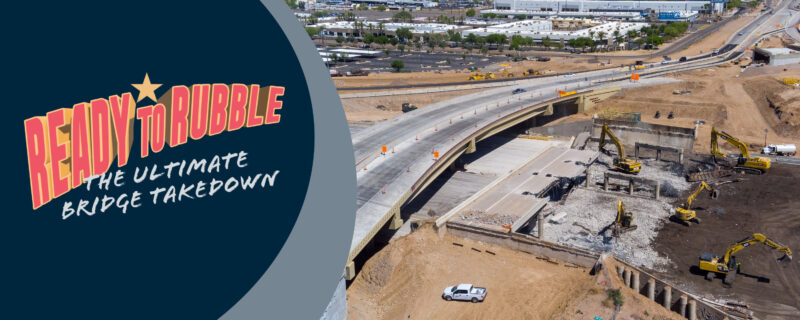 Ready to Rubble: The Ultimate Bridge Takedown: April 22, 2023
Broadway Curve Constructors removed the old 48th Street and Broadway Road bridges over I-10 on Saturday, April 22 and dozens of students and industry professionals got to see the work firsthand. The old bridges were removed after traffic was switched onto the new bridges that were built next to the old  ones. The new, wider bridges were needed to make room for the future Collector-Distributor roads and the reconfiguration of the I-10 and SR 143 interchange.
Dubbed as "Ready to Rubble" weekend, ADOT hosted dozens of engineering students from Arizona's three state universities and local high schools to take a behind-the-barricades tour to witness the bridge removal. Industry professionals and representatives from the project's partner agencies also participated in the tours.  All three bridges removed were built in the 1960s and the removal provided a unique perspective on the lifecycle of Arizona's infrastructure.
Learn more about the bridge takedown process with the following resources:
Blogs
Behind the Scenes Videos
Photos
Video
The I-10 Broadway Curve Project Team provides regular project updates and presentations to community and civic groups and organizations. If you are interested in having the team meet with your group or organization, please complete the contact form. Presentations can be done virtually or in person and in compliance with CDC guidelines.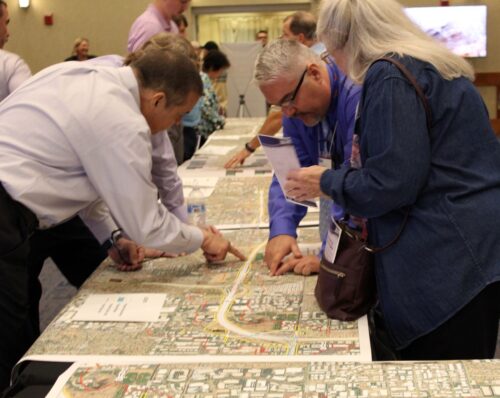 Catch us at these upcoming events!
TBD
Community Outreach Presentations To Date
Rio Salado College – June 2023

Valley Metro Transportation Management Association (TMA) – June 2023

May The Fourth STEM night – May 2023

Ahwatukee Kiwanis – April 2023

Pascua Yaqui Tribe Open House and Resource Fair – April 2023

Fountainhead Association – March 2023

Geeks Night Out – March 2023

Spring Training at Tempe Diablo – March 2023

Valley Metro Transportation Management Association (TMA) – March 2023

Spring Training at Tempe Diablo – March 2023

Chandler Innovation Fair – Feb. 2023

Knoell Garden Grove Community Meeting – Feb. 2023

Phoenix Public Library (South Mountain Branch) – Feb. 2023

The Meadows HOA – Jan. 2023

Westside Multi-Generational Center, Tempe – Jan. 2023

Chandler Public Library (Sunset Branch)  –  Jan. 2023

Tempe Public Library – Jan. 2023

Arizona Mills Mall – Jan. 2023

Phoenix Public Library (Ironwood Branch) – Jan. 2023

Navidad en Guadalupe – Dec. 2022

Fountainhead Association – Dec. 2022

Valley Metro Transportation Management Associations (TMA) – Dec. 2022

Guadalupe Spooktacular – Oct. 2022

STEAM Spooktacular – Oct. 2022

Tempe Tardeada – Oct. 2022

Valley Metro Transportation Management Associations (TMA) – Sept. 2022

Western Canal Multiuse Bridge Meeting – July 2022

Valley Metro Transportation Management Associations (TMA) – June 2022

Rio Salado College – April 2022

The Meadows Homeowner's Association – April 2022

Arizona Truck Driving Championships – April 2022

Spring Training – Tempe Diablo Stadium (2) – March 2022

Geeks Night Out – March 2022

Tempe Second Sunday – March 2022

Arizona Aloha Festival – March 2022

Valley Metro Transportation Management Associations (TMA) – March 2022

Hallcraft Villas Homeowner's Association Meeting – Feb. 2022

PHXGeo – Feb. 2022

Chandler Crossing Homeowner's Association Meeting – Feb. 2022

Tempe Transportation Open House – Jan. 2022

Tempe Nazarene Church – Jan. 2022

Tempe Second Sunday – Jan. 2022

Pointe South Mountain Homeowner's Association Meeting – Dec. 2021

Tempe Second Sunday on Mill – Dec. 2021

Sierra Tempe Unit 4 Homeowner's Association Board Meeting – Dec. 2021

Tempe Village Homeowner's Association Meeting – Dec. 2021

Valley Metro Transportation Management Associations (TMA) – Dec. 2021

Tumbleweed Tree Lighting Ceremony – Dec. 2021

Forty Eight East Homeowners' Association Meeting – Nov. 2021

Tempe Second Sunday on Mill – Nov. 2021

Tempe 150 Sesquicentennial – Nov. 2021

ASU Homecoming Block Party – Oct. 2021

Valley Metro Commute Solutions Webinar – Oct. 2021

American Society of Civil Engineers – Oct. 2021

Worthington Place Homeowners' Association Meeting – Sept. 2021

Chandler Horizon Rotary Club – Sept. 2021

Chandler Chamber of Commerce Policy Meeting – Sept. 2021

Tempe City Councilmember Jennifer Adams' Community Event – July 2021

Ahwatukee Foothills Chamber of Commerce – June 2021

Chandler Rotary Club – March 2021

Tempe Transportation Commission – March 2021

Greater Phoenix Leadership – Jan. 2021

East Valley Partnership – Nov. 2020

Greater Phoenix Economic Council – Nov. 2020

Tempe Chamber of Commerce Transportation Committee – Oct. 2020

Tempe Transportation Commission – Feb. 2020

Greater Phoenix Chamber of Commerce – Feb. 2020

DBE Networking Open House – Jan. 2020

Glendale Chamber of Commerce – Oct. 2019

Arizona Commercial Forecast 2020 – Oct. 2019

East Valley Partnership – Oct. 2019

Public Hearing – Oct. 2019

Town of Guadalupe Town Council – Aug. 2019

Tempe Transportation Commission – June 2019

East Valley Chamber of Commerce Alliance – May 2019

Tempe Chamber of Commerce – April 2019

Public Scoping Meeting – Feb. 2019